Scritto da
admin

| Archiviato in Eventi | Scritto il 24-02-2011
SALA CONFERENZE
13:30 – 15:30 Evento speciale: Comicomics. Daniele Brolli (Mondo Mongo) modera un incontro sulle nuove frontiere del comico italiano. Con Giacomo Bevilacqua (A Panda Piace), i Paguri (Don Zaucker), Tuono Pettinato (Garibaldi), Massimo Bonfatti (Cattivik), Francesco Artibani (Mostri & Pirati).
Un'altra iniziativa collaterale interessante è quella promossa dalla rivista XL sul suo profilo Facebook. Si tratta di una striscia a fumetti composta da quattro vignette realizzate dai partecipanti al dibattito. A partire dalla prima, ad opera dei Paguri, seguiranno quelle realizzate da Tuono pettinato, poi da Bonfa e infine da Bevilacqua. Ogni autore si baserà sulla vignetta precedente per crearne una nuova coerente, ignorando la sucessiva. Un giochetto divertente di antiche origini molto in voga nelle kermesse fumettistiche francesi. Pare che i progenitori siano stati i pittori surrealisti. Comunque vi mostriamo qui sotto la vignetta del Bonfa e vi invitiamo a leggere le altre su: http://videodrome-xl.blogautore.repubblica.it/2011/02/24/xl-al-mantova-comics-games-2011/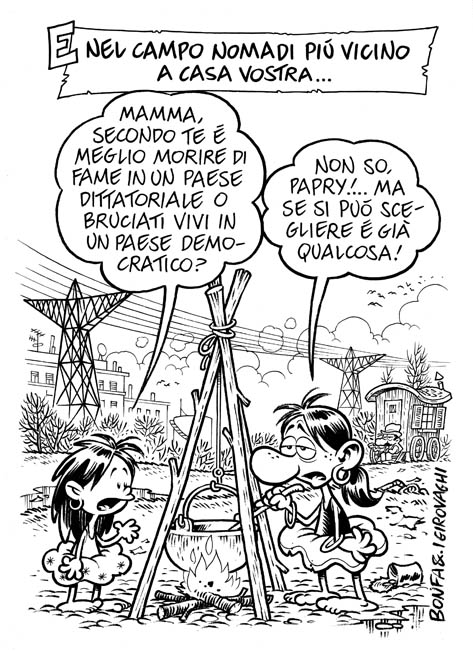 Mantova Comics And Games.
La fiera si terrà presso il Palabam, in via Melchiorre Gioia 3 dal 25 al 27 febbraio.
Per raggiungerci in macchina, il casello autostradale più comodo è Mantova Nord, sull'autostrada A22 Modena/Brennero. All'uscita dell'autostrada, in località San Giorgio (MN), alla prima rotonda girare a destra e dopo circa 300 mt svoltare a sinistra in direzione CENTRO. Procedendo diritto, dopo circa 3 Km, svoltare a destra nel parcheggio del centro commerciale La Favorita. Il palabam dista 3 km dal Ponte di San Giorgio (entrata storica della città) ed è quindi a metà strada tra il casello di Mantova Nord e il centro della città.
Per raggiungerci in treno, invece, considera che Mantova è collegata a tutte le principali stazioni del NORD Italia attraverso le linee ferroviarie, per maggiori informazioni chiama il Call Center Trenitalia S.p.A. 892021 (numero attivo tutti i giorni 24 ore su 24). Successivamente, per raggiungere il palabam in autobus, partendo dalla stazione delle Ferrovie dello Stato, dovrai prendere la Linea 4 in direzione del Centro Storico. Alle fermate del centro, PITENTINO, TRENTO, TASSONI, VIRGILIO, CAIROLI, PALAZZO DUCALE è possibile cambiare Autobus e prendere la Linea 6 che porta direttamente al Palabam. Dovrai scendere alle fermate BOCCABUSA CENTRO COMMERCIALE o BOMA BOCCABUSA.
Piantina fiera:
http://mantovacomics.it/wp-content/uploads/2011/02/piantina.pdf
Programma domenica 27 febbraio:
http://mantovacomics.it/programma27/ 
Presentazione del Bonfa:
http://mantovacomics.it/bonfa/
Per Alberto e Don Camillo
un piccolo reprtage da Mantova Comics 2011
by Bonfa 27/2/2011
Ero d'accordo con Lorenzo Bartoli (factotum della ComixComunity) di trovarci a Reggio Emilia per andare insieme. Appuntamento ore 10 (vedi immagine) al Mauriziano, casa natale di Ludovico Ariosto e sede di ComixComunity (forse non a caso).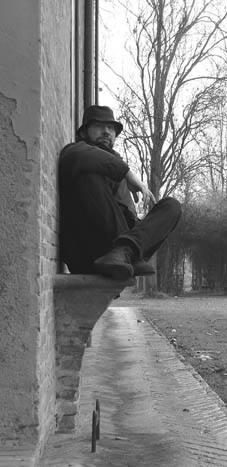 Seduto su quella sporgenza di mattoni ho immaginato che il grande poeta avesse giocato da bambino in quei posti. Chissà se all'interno di uno di quegli alberi secolari è rimasto qualcosa da lui nascosto e poi dimenticato? Bisognerebbe radiografare tutti gli alberi, perché nei secoli le corteccie avranno richiuso tutti i buchi e quello che centinaia d'anni fa era ad altezza di bimbo ora è a dieci metri dal suolo. Ma poi cosa potrebbe esserci? Una poesiola d'amore? Un giocattolo? Un soldino? Comunque non varrebbe la pena di tagliare nessuno di questi alberi così maestosi. Che si tengano i loro segreti, a noi basta immaginarceli, no? (Fine della digressione).
Carichiamo un po' di libri da vendere e alcune copie dell'ultimo numero di Walhalla da consegnare ad amici e sostenitori. Viaggio liscio sotto la pioggerellina che minacciava di trasformarsi in neve. Arriviamo al Palbam in buon anticipo,  c'è tutto il tempo per organizzarci, la conferenza sul fumetto umoristico alla quale devo partecipare è alle 13,30 e la signing-session a seguire. Per cui cerchiamo al telefono la persona che deve farci entrare. Qualche problema per l'ingresso dell'auto nell'area di servizio e del mio amico nonchè per il rimborso delle spese di benzina a causa delle disposizioni eccessive non tanto degli organizzatori quanto dei gestori del palazzetto sportivo. Risolte le divergenze di punti di vista (credo ancora che i doveri di riconoscenza e ospitalità siano importanti, benchè in via di estinzione). Tant'è che poi anche gli espositori hanno protestato ( http://www.mangaforever.net/25717/comunicato-espositori-mantova-comics-2011.html ) e io mi associo. Gli autori non si appoggiano spesso queste proteste, se non verbalmente e in privato, eppure siamo tutti sulla stessa barca e il successo delle manifestazioni dipende anche dal confronto critico. Quindi, con qualche incazzatura mal digerita salutiamo gli amici di FUMETTERIA e due nostri amicissimi di Modena, Mirko Bonini e Luca Speranzoni ( http://www.flashfumetto.it/artisti/gallerievirtuali_pagina/id-9/gal-164 ), presenti in fiera per sottoporre un loro progetto a Marvel e DC. Mi hanno mostrato le tavole e le ho trovate bellissime. Mirko è un talento naturale e il progetto, ideato insieme a Luca e di cui mi avevano già parlato in precedenza, era molto interessante. Infatti non è stato accettato! Cosa che capita sempre alle cose migliori. Abbiamo incontato i Paguri (Daniele Caluri ed Emiliano Pagani), Laca, Francesco Artibani e Katja Centomo, Felix the Cat e infine Andrea Baricordi di Kappa Edizioni. Poi è arrivata l'ora del dibattito. (Argh! Il dibattito NOOOO!…) come urlava il rag. Ugo fantozzi fuggendo dal cinema dopo la proiezione de "La corazzata Potëmkin".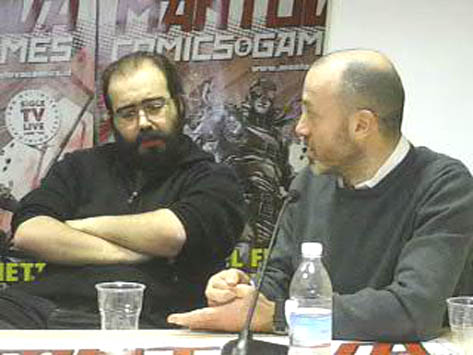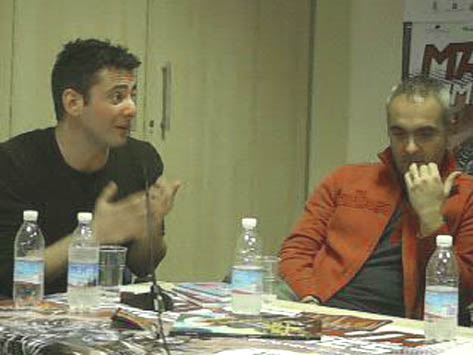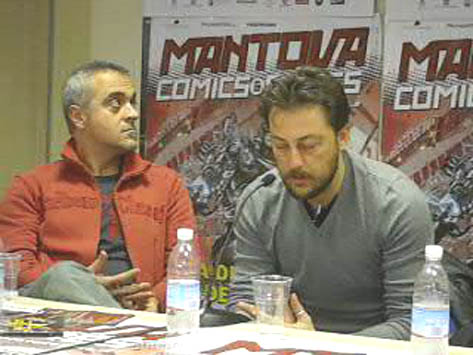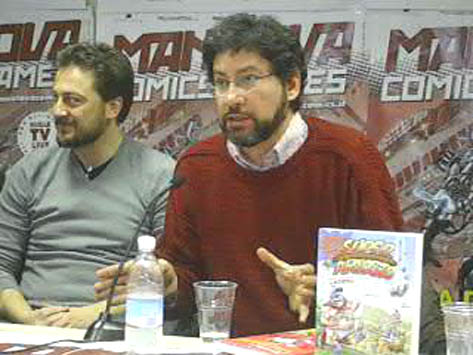 La conferenza moderata da Daniele Brolli è iniziata in modo canonico e abbastanza rilassato, con Brolli (moderatore), Tuono Pettinato, Bonfa, I Paguri e Giacomo Bevilacqua. A un certo punto però, la mia latente incazzatura dovuta all'assurdità di questa Italia in mano a dei dementi, unita alla constatazione che anche nella realtà di tutti i giorni c'è un sacco di gente che mi fa imbestialire (vedi intoppi prededenti), ha fatto sì che anche per un'argomento così apparentemente tranquillo le mie parole scoppiassero come un petardone che non riuscivo più a trattenere. Avrei voluto chiacchierare con gli amici e colleghi di cose piacevoli ma evidentemente ero piuttosto saturo. Non entro nel merito dei discorsi fatti, vi dico solo che sono riuscito a mutare un clima di serena disquisizione in una tetra cappa di pessimismo cosmico e incazzatura mortifera, non solo riguardo al fumetto comico e in generale, ma anche sul mestiere del fumetto e sull'editoria e la società tutta.
Unico applauso da parte di Laca, autore di "Pasol" e personaggio assolutamente fuori da ogni schema (e forse, come me, pure un po' fuori di testa). Alla fine, per pietà verso il pubblico, i paguri hanno chiesto ritualmente al pubblico se c'erano ancora domande, facendo però capire che sarebbe stato meglio darci un taglio. Giustamente! Un pò mi dispiace per le persone tra il pubblico che forse hanno percepito il mio nervosismo, ma in fondo non ho fatto altro che dire onestamente quello che penso senza (spero) superare il limite della decenza. Probabilmente questa è solo la mia impressione, dovuta al mio stato d'animo, magari al pubblico sono apparso sereno e rilassato. Lorenzo ha filmato il dibattito (da cui sono state estratte queste immagini) e io sono curioso di vederlo per sapere se devo vergognarmi oppure no.
Prima di andarcene per lasciar posto alla conferenza sucessiva e aprire le finestre per cambiar aria alla stanza, ho notato qualcosa sul tavolo, nel posto occupato da Bevilacqua. Un'oggettino di fil di ferro attorcigliato che ho scansionato e che vi mostro qui sotto.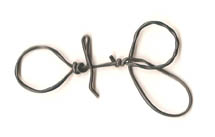 Rappresenta il simbolo (lisca di pesce) di Jacovitti. Secondo me ha preso forma inconsciamente nelle mani di Bevilacqua, come se lo spirito di questo grandissimo autore, più volte citato ed evocato da tutti noi, avesse voluto materializzarsi per incoraggiarci e testimoniandoci la sua compassionevole vicinanza. Ripensando a Jacovitti, vale la pena ricordare come anche lui abbia dovuto subire in vita, come tutti noi, gli ostracismi, l'arroganza, le incomprensioni, gli opportunismi e le cattiverie degli stupidi che sono sempre sovrabbondanti al mondo. (Fine seconda digressione).
Il caro Bartoli dev'essere dimagrito un paio di chili nello starmi vicino per tutto il giorno, per la continua aspettativa di mie possibili sortite "diplomatiche". Invece tutto è filato liscio. Mi sono dedicato alla seduta di disegni omaggio nell'area "night club" come un bravo scolaretto durante una prova di verifica mi sono messo con gli atri disegnatori e disegnatrici, italiani, americani o altro (alcuni non li conosco e mi piacerebbe sapere chi sono), a svolgere con diligenza il mio compitino. Anche qui un piccolo intoppo. Io considero poco rispettoso per la professionalità degli autori pretendere che disegnino gratuitamente per il pubblico. Noi siamo spesso generosi perchè amiamo i nostri lettori ma questo è il nostro lavoro e siccome le occasioni in cui ci viene chiesto un "disegnino" sono innumerevoli (come anche le  collaborazioni e le partecipazioni gratuite ad ogni livello) sarebbe bene dare almeno un senso a questo impegno. Ad esempio quando lo scopo è per beneficienza o per sovvenzionare qualcosa di meritevole o anche per pura amicizia e divertimento. In molti casi io preferisco di gran lunga chiacchierare con gli amici o gironzolare per le fiere curiosando, piuttosto che disegnare. (Fine terza ed ultima digressione).
In questo caso si trattava di una semplice "estrazione a sorte", quindi ho deciso che tanto valeva fare il disegno a chi avesse acquistato una copia dell'albo CAROGNE (realizzato da miei amici do Sassuolo) o del volume di SUPER ARIOSTO(prodotto dai ragazzi e dalle ragazze di ComixComunity con la quale collaboro e mi diverto spesso). Naturalmente c'è stato da discutere anche su questo ma presto abbiamo raggiunto un ragionevole compromesso: quattro disegni ad estrazione e gli altri ai volonterosi acquirenti. Qui sotto alcuni disegni che sono riuscito a fotografare con la fotocamera di Lorenzo o che gentilmente mi hanno spedito le persone per cui li ho fatti.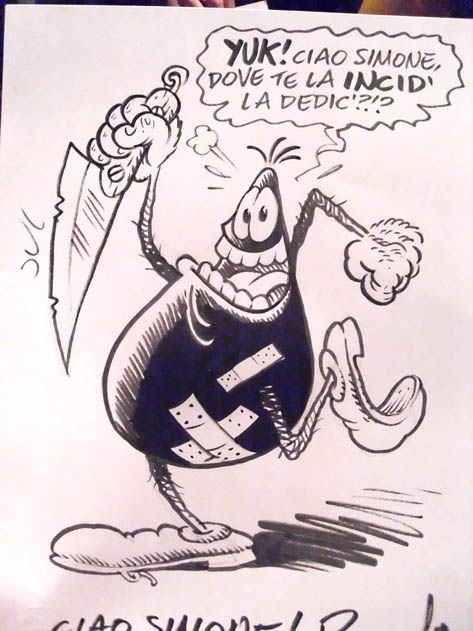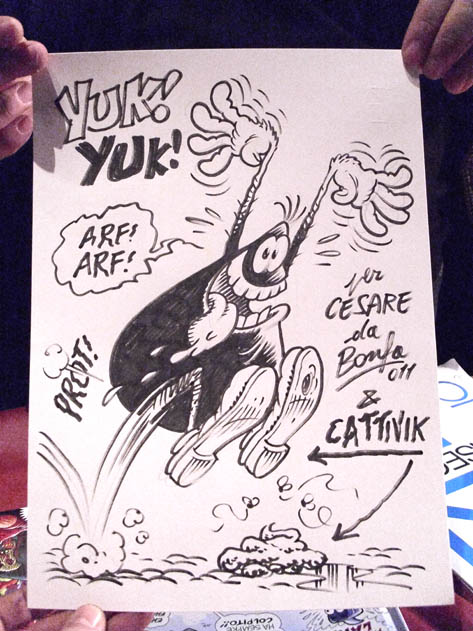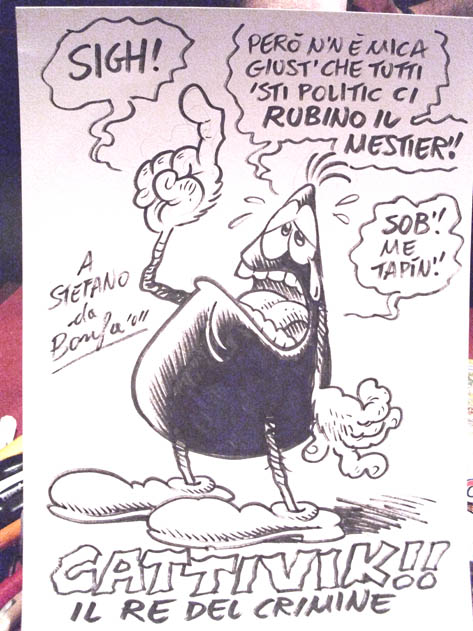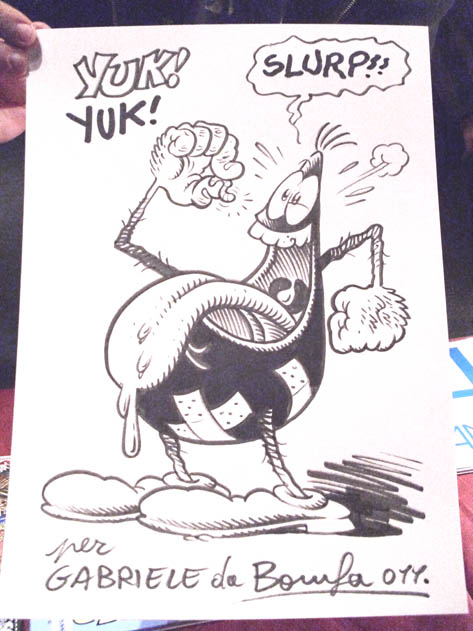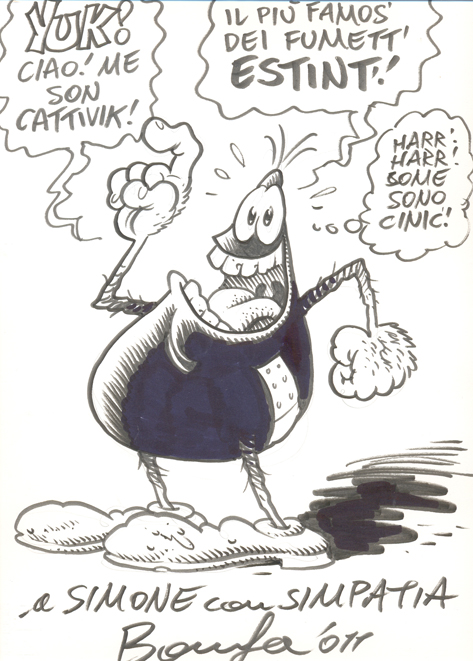 In seguito ho salutato Sara Mattioli, che ha avuto la gentilezza di invitarmi, Angelo Nazzaro ed altri amici incontrati prima di ripartire. All'ultimo momento sono riuscito perfino a procurarmi un poster e un portachiavi di Naruto che avevo promesso a mio figlio.
Il che mi ha finalmente fatto felice, rasserenandomi e dando un senso alla giornata.
Bonfa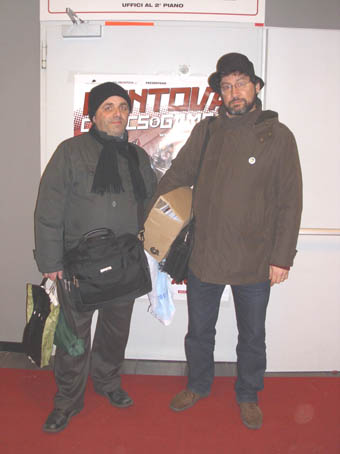 Fine del piccolo reportage da Mantovacomics 2011
commenti: 409